Frequently Asked Questions (FAQ's)
What is the history of Plasma Technology Inc.?
Plasma Technology Incorporated (PTI) was founded in 1969 as a supplier of plasma applied coatings.
The starting niche strategy was aimed at original equipment manufacturers of Aircraft Engines and Airframes. That strategy was successful as the aircraft markets were experiencing rapid growth and coatings were in great demand. PTI initially offered less than ten types of coatings.

The non-aircraft segments of the market began to mature in the late nineteen seventies and early eighties and now represents about sixty percent of the total market. PTI has been a leader in expanding the use of the technology to other market segments.

The company now offers over three hundred coatings, applied by eight different techniques.

Corporate headquarters, and the main coating facility, are located in 40,000 square feet in Torrance, CA. This facility also contains a large and well equipped machine shop and grinding capability supporting both plant sites.

A second plant is located at South Windsor, CT and contains about 21,000 square feet. This is a multiple shift production coating facility supporting General Electric, Pratt & Whitney Aircraft, and other major accounts.

The company has prospered in a highly competitive industry by becoming a technology and quality leader and expanding the base for use of other products. PTI is a market focused and directed Surface Engineering Company operating at all levels to provide high value added services to a very diverse customer base.
Why are coatings used?
PTI applies over three hundred different coatings by the various techniques described. There are probably thousands of reasons to apply a coating on specific applications, most of them can be reasonably grouped as follows:
Surface Engineering allows a base material to be chosen for a particular set of attributes (weight, cost, corrosion resistance, thermal capability) while the surface has a different set of properties (hardness, electrical resistance or conductivity, mating characteristics, thermal transfer or shielding).

Surface Engineering allows a duplex set of properties unattainable by other techniques.

Coatings enable significant cost savings when compared with solid materials of like composition.

Coatings can be tailored to application specific requirements quite readily and usually at low cost.
How are coatings used?
Jet engine compressor blades erode in service as a result of abrasive particles impinging at high speed. A .002"-.004" thickness of Tungsten Carbide/Cobalt solves the problem up to 800 degrees Fahrenheit, a Chromium Carbide Cermet up to 1,600 degrees Fahrenheit.

Power generation plants experience significant oxidation damage on combustor components at temperatures up to 2,200 degrees Fahrenheit. A Yttria Stabilized Zirconia thermal barrier solves the problem. Parts are in service three times as long as non-coated components.

Brake discs on bicycles prematurely wear the aluminum rims. A coating is designed to mate well against the disc, prevent the wear and allow economical application. Problem is solved.

Drive Rollers in commercial printers and plotters must be ´rough´ enough to drive the paper. The ´roughness´ must be ´rounded´ so that sharp peaks do not tear the paper, and it must stay ´rough´ when run against the very abrasive paper. A Tungsten Carbide coating is designed that lasts for years of service.

A very high purity ceramic with specific electrical properties is required in chip manufacturing. A coating with impurities restricted to parts per billion applied to thousands of components.

EMI Shielding is required at low cost for plastic components in automobile ignitions. A Zinc coating and the tooling required for hundreds of thousands of parts is produced in weeks.

Titanium Gimbals for advanced aircraft require wear resistance on bearing surfaces, very fine surface finishes, tolerance to .0005" and minimal fatigue effect on the titanium. An HVOF Tungsten Carbide is applied, finished ground to 8RMS and shipped by the hundreds on schedule.
What is Finishing & Grinding?
About sixty percent of the coatings sold by PTI are used in the 'a coated' condition. The balances are used in some 'finished' conditions depending on the application specifics. Finishing of most of these materials requires extensive knowledge and is technique dependent. To that end, PTI has developed extensive finishing capability and we prefer that PTI bring parts to 'end use' condition.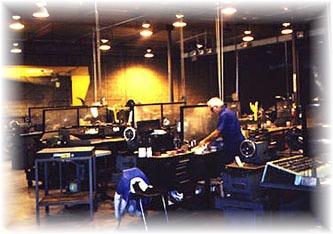 What are Support Operations?
As an adjunct to the coating and finishing operation, pri has an extensive capability to support those operations. Some of our capabilities include:
A large, well equipped machine shop. Used to machine part specific tooling designed by PTI. Also used to machine and assemble part and torch manipulators which enable volume production at the superior quality level our customers expect.

Completely equipped Metallographic laboratories at both facilities. Each lab is customer and NADCAP approved as well as accepted by the more stringent requirements of PTI.

Extensive measurement capabilities for surface finish, dimensions, bond strength, electrical characteristics, erosion resistance, thermal capabilities, and hardness.

Specialized welding capabilities including inert chamber capability for Columbium/Niobium.

Level II and Level III FPI capability.

Test ovens to 2,200 degrees Fahrenheit, desiccant ovens to 850 degrees Fahrenheit.

A paint facility restricted in use for high performance sealers.

Vacuum chambers.

SEM, Image Analysis, and EDAX.

Raw material sizing and blending.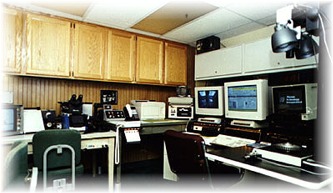 How does Plasma Technology Inc. utilize technology?
The technology effort within Plasma Technology, Inc. is considered critical to our long range success. This group is charged with the development of new and unique coating materials, the necessary parameters to apply these materials and the quality level acceptable. Process Engineering is performed at both plant facilities and includes the design of part specific tooling, equipment manipulators and process sequence instructions. Research and Development is centralized at the Torrance, CA facility and is strongly customer directed. When a requirement is identified by customer/ sales/ engineering interface, this group is charged with fulfilling that requirement.